Our People
---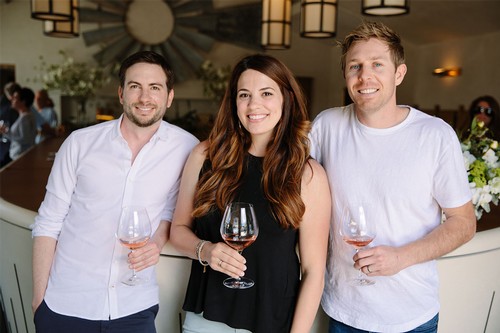 Founder
Michael Stewart
When Michael Stewart sold the technology company he founded and ran for 25 years in Texas, he knew that his next venture would in some way allow him to capitalize on a longtime interest in wine. He made several trips to the Napa Valley over the years and was charmed by the idea of settling here and building a family business. In 2000, Michael launched Stewart Cellars with small inaugural releases of hand-crafted Cabernet Sauvignon and Pinot Noir sourced from some of the finest vineyards in Napa Valley and Sonoma County. With both son James and daughter Caroline now on board at Stewart Cellars, Michael's dream for the Stewart clan to set down permanent roots in Napa Valley has come true.
Co-Proprietor
James Stewart
James Stewart is one of Napa Valley's next-generation winemakers assuming central roles in legacy wine businesses. Born and raised in Houston, Texas, he came to the Valley in 2006 to partner with his father, Michael, in running Stewart Cellars. Following a product from the dirt to the shelf greatly appeals to him; moving his family's wines through the marketplace without having to compromise their standards or beliefs is what he finds most rewarding about his work. Like many of his peers, James is focused on issues surrounding sustainability, preservation, labor practices and maintaining family-owned businesses in Napa Valley. He enjoys charity work and fundraising, but is most intent on spreading the message that Napa Valley is for everyone and that Stewart Cellars, and the other family-owned businesses here, make wines first and foremost for people's enjoyment.
Co-Proprietor
Caroline Stewart Guthrie
Raised in Texas and trained in economics at Southern Methodist University, Caroline Stewart has a keen mind for numbers, like her father Michael, and a nuanced palate, like her mother Anne. Drawing on those strengths, her first job after college was as a wine rep at Republic National Distributing Company. Following that experience, Caroline was a cellar's hand at Paul Hobbs Vina Cobos in Mendoza, Argentina, where she immersed herself in the local culture. Returning to the States to work at Paul Hobb's Crossbarn in California, Caroline continued her hands-on training, embracing the long hours and exhaustive labors involved in crafting beautiful wines. It was while serving as a cellar's hand at Crossbarn that Caroline met her future husband, Blair Guthrie, a native New Zealander who shared her staunch work ethic and her love for wine. Today, Caroline ensures the family business runs smoothly while not only crafting elegant and beautiful wines, but also building the family's brand.
Winemaker and Vineyard Manager
Blair Guthrie
Born and raised in Christchurch, New Zealand, Blair excelled in sports and art, playing rugby, basketball and cricket, while pursuing an interest in graphic design. The skills he developed in those areas come in handy as a winemaker today with what he describes as an athlete's competitiveness, a creative eye and an artist's enthusiasm for winemaking. With a national certificate in graphic design, earned in New Zealand, and a post-graduate degree in oenology and viticulture, Blair got his start in wine in 2009 as a harvest intern at Paul Hobb's Crossbarn in California, where he met his wife, Caroline Stewart. Together the couple moved to South Australia, where Blair assumed a job as assistant winemaker at BK Wines. As much as Blair and Caroline loved life down under, California was where they saw their future. Returning to Napa Valley in 2012, Blair was named assistant winemaker at Kunde Family Winery, a position he held for three years. In 2015, Blair joined the Stewart Cellars team as winemaker and vineyard manager, displaying the same passion he brings to being a husband and father as he does his work in the vineyards and cellar.